Monday June 26, 2017
Substitute Speaker for the 2:30pm afternoon presentation
Doug Cohn will be a substitute speaker for Cassandra for the 2:30pm presentation. He will speak about the Arkansas Valley Railroad, this little railroad ran for only 6 years from Kit Carson Colorado to Las Animas. The completion of the railroad cut the travel time along the Santa Fe Trail in half. The railroad was called the Arkansas Valley Railroad.
2:30pm at the Englewood Public Library Anderson Room
1000 Englewood Parkway
Englewood, Colorado 80110
303-762-2660
Our regularly scheduled presentation currently remains scheduled for the 6:30pm evening presentation today
Cassandra Letkomiller will present the history of the 1918 Flu Pandemic "50 Million Dead Worldwide". The lecture will take place on Monday starting at  6:30 pm at the BOB, Brew on Broadway, 3445 S. Broadway.
6:30pm at the Brew on Broadway
3445 South Broadway
Englewood, Colorado 80113
303-781-5665
For questions about this event,
please email contact@historicenglewood.org, or call 303-242-3257
---
Upcoming Events!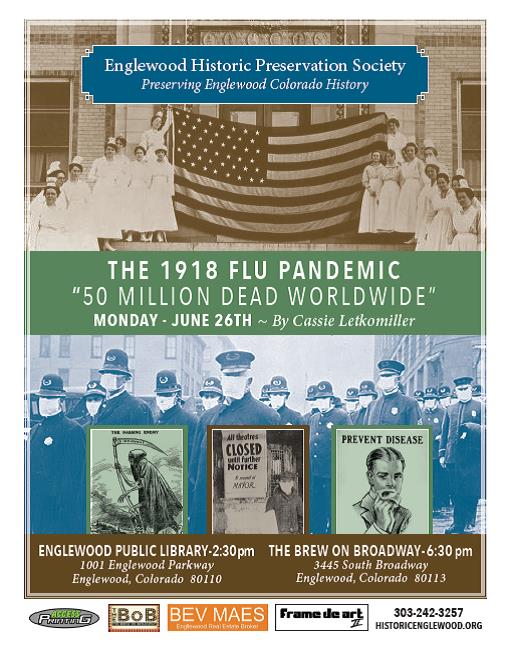 ---
Englewood Historic Preservation Society Newsletter